Making the leap into entrepreneurship is no easy task; but, with unemployment and underemployment as existing factors more and more people are finding themselves at a fork in the road.
"Should I start my own business?" "Should I quit my job?" "Isn't there more to all of this?"
Discuss this leap with successful Brampton entrepreneurs and find out what their stories are, why they chose to open businesses in Brampton, what their initial obstacles were they faced, and what it really takes to be a successful business owner.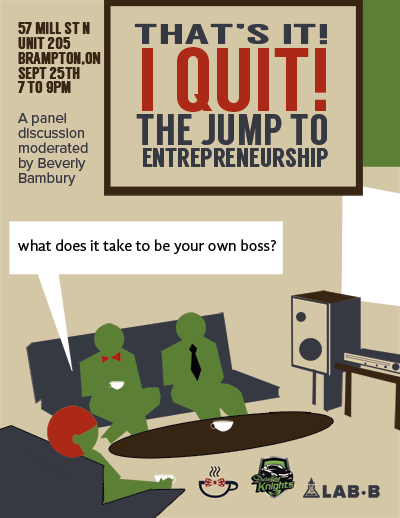 Featuring Panelists:
Beverly Bambury, Sole Proprietor of Beverly Bambury Publicity. (Also Moderating).
Sir Ryan O'Neil Knight – Owner/Founder of Detailing Knights – BCORP Certified, 2013 Toronto Region Board of Trade – Business Excellence Award Winner!
Daniel Lewis – Owner/Founder of TByDaniel, 2014 Young Entrepreneur of the Year for BOBAA!
Daniel Francavilla – Creative Director of Now Creative GroupFounder of ACCESS Charity
Register for this free event here.